Pancake recipe
The perfect, guilt-free pancake recipe
People often say that if it tastes good, it's probably bad for you, right?
Well, we're here to bust that myth with a delicious recipe that's not only big on flavour, but also jam-packed with a whole host of healthy, nutritional benefits.
It's time to say goodbye to the guilt, and good morning to heathy banana pancakes.
While pancakes traditionally have a reputation for being full of fat and sugar, they don't have to be. By making a few simple health hacks, such as adding mashed banana instead of sugar, you will get pancakes with a natural sweetness without the added calories. Bananas are also a great source of potassium, fibre and protein, so you will be starting your morning off on a much healthier note.
This healthy banana pancake recipe is ideal for lazy weekends and reheats perfectly for busy weekday breakfasts. Leftover pancakes can be stored in the fridge for up to three days, or frozen for up to three months. To reheat, simply stack leftover pancakes on top of each other and wrap them in a paper towel before gently reheating in the microwave.
Want light, fluffy, mouthwatering pancakes? Here are a few quick tips!
The browner and spottier the banana the better. Overripe bananas are sweeter and easier to mash into your mixture.
When making pancakes, always mix ingredients with a big wooden spoon (not an electric mixer) to avoid over-mixing and getting a rubbery pancake texture.
Start on low heat. If you overheat your pan too early you risk having a crispy pancake on the outside, and raw, uncooked batter in the middle.
For an even healthier pancake recipe, use coconut oil instead of butter and top your pancakes with fresh fruit rather than maple syrup.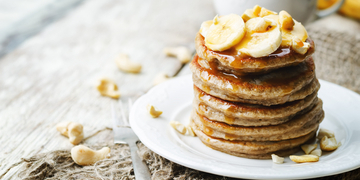 Healthy Banana Pancakes
Recipe by Cookie and Kate
Preparation time: 10 minutes
Cooking time: 10 minutes
Number of pancakes: 6-7
Ingredients
1 cup of whole wheat flour, 1 tablespoon of baking powder, 1/2 teaspoon of cinnamon, 1/4 teaspoon of sea salt, 2/3 cup of milk (try oat milk for a creamy, dairy-free alternative), 1/2 cup of mashed banana (about 1 large banana), 1 large egg, 2 tablespoons of maple syrup (or honey), 2 tablespoons of melted butter (or coconut oil), 1/2 teaspoon of vanilla extract, Maple syrup, berries, peanut butter for topping
Method
In a medium bowl, combine the flour, baking powder, cinnamon and salt and whisk together to blend.
In a smaller bowl, combine the milk, mashed banana, egg, maple syrup, butter and vanilla. Whisk until blended, then add to the flour mixture. Mix gently with a large wooden spoon.
Put your pan on low heat. You can start cooking the pancakes once a drop of water sizzles when dropped onto the hot surface. Lightly oil the cooking surface with some butter or coconut oil and wipe away any excess.
Using a 1/3 measuring cup, scoop the batter onto the pan. Cook until small bubbles form on the surface of the pancakes. This will take roughly 2-3 minutes.
It's time to flip! Once you have flipped the pancake, continue to cook until lightly golden, about 1-2 minutes more. Repeat the process with the remaining batter.
Serve warm and top off your banana pancakes with fresh fruit, peanut butter or a drizzle of maple syrup/honey. Enjoy!
Find out more about our international health insurance plans.
Source
1. Cookie and Kate (https://cookieandkate.com/whole-wheat-banana-pancakes-recipe), last access in January 2021